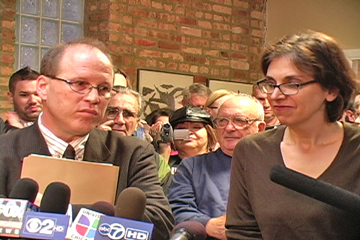 On Friday, September 24, FBI agents
raided houses
across the midwest
, including the north-side house of Chicago activists Joe Iosbaker and Stephanie Weiner, as well as that of Hatem Abudayyeh of the Arab-American Action Network. The FBI
ostensibly
investigated alleged financial ties with unnamed international terrorists; the FBI has issued subpoenas to force testimony before a grand jury to about a dozen activists across the midwest.
Antiwar activists, mindful of
the COINTELPRO intimidation tactics
that the FBI has implemented in the past against radical activists, view the raids as little more than crass intimidation. Within a day, activists organized a
solidarity vigil
, a
press conference
to raise
public opinion
of the matter, and after an
impromptu meeting
have quickly
organized a rally at FBI offices in Chicago
, in concert with
similar rallies in 18 other cities
.
Related links
:
Send a note re: FBI raids and CC your local media
|
Olympia Washington stands in solidarity with activists
Additional Coverage
:
Chicago Independent Examiner
|
Twin Cities Indymedia